Subscriptions include Free Shipping! You pay for the Covers, we'll Cover the cost of shipping.
Treat yourself to a new 'Pod every month! With our Omnipod Cover Subscription, you'll never worry about running out of stylish Pod wear - we'll drop fresh, seasonal covers right to your door! You get access to our new and exclusive designs, plus all the staple colors so you're always on trend. Wearing a new 'Pod with pride has never been easier!
Read More about our Covers:
Materials

The covers are made of skin friendly material and are safe for everyone. They're completely PVC-, BPA-, and latexfree.

You can do everything you would normally do with your device while wearing a cover. You never have to take it off! You can swim, sleep, do sports and shower without having to remove the cover. They won't slip off easily due the material they're made of.
Reusable

The covers are of high quality and meant to last a lifetime.
Compatible with all the Omnipods!

This Omnipod pod Cover fits the Omnipod, Omnipod Dash and Omnipod 5. The case is reusable which means it lasts longer than an Omnipod Sticker or Omnipod Patch. This Omnipod accessory is specifically meant for the Pod not the Omnipod PDM (Personal Diabetes Manager).
Comfort

The cover fits perfectly on your Omnipod, weighs next to nothing and the material feels soft to the touch. You won't even know you're wearing one!
Safety

The wireless connection won't be affected by wearing a cover.
SugarFam is not liable for devices not working properly. The cover and the material they're made of could never cause a failure / won't affect the functioning of the device.
A cover adds a little protection but this is not something we can guarantee.

This listing does not include the Omnipod itself, only a reusable case for the Omnipod. There are all kinds of diabetes accessories available, for example: Omnipod Stickers, Patches, Sleeves and Bands. But we don't offer these as they are not always as reusable as we would want. We only offer pump covers in all kinds of colors. One of the great things is you can wear them together with an Omnipod adhesive patch.
View full details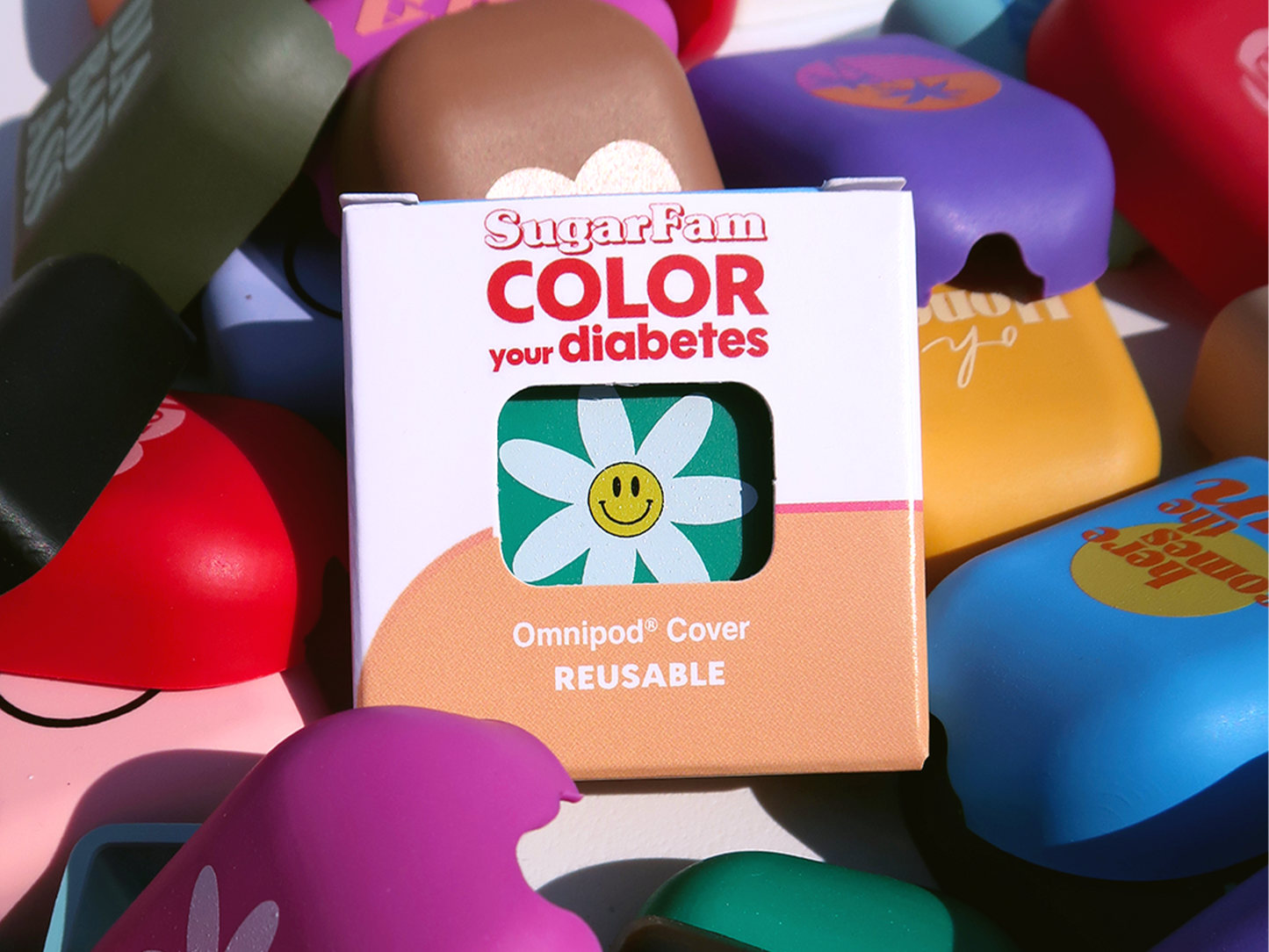 A question about our subscription service? Let us know!