Regular price
Sale price
$16.14 USD
Unit price
per
Sale
Sold out
Protect your insulin with these colorful covers for your vials! Very easy to use, endlessly reusable and made of a sturdy, flexible plastic.

The case fits perfectly around your insulin vial, feels soft to the touch and is super lightweight. 
VialSafe Insulin Protection - 2 Pack 
Fits all 10 mL vials of Fiasp, Humalog, Humulin, Levimer, Novolin, Novolog, NovoRapid and Vetsulin.
Protects vials if accidentally dropped 

Open top allows easy needle insertion
Provides secure and comfortable grip
Great for traveling
Insulin vials are often quite fragile and could shatter if they're accidentally dropped. With Vial Safe there's no more worrying about vial breakage while on the go or just at home, because accidents can happen anywhere. 
Reusable
he covers are of high quality and meant to last a lifetime
Strong & Flexible
The covers are made of a sturdy, flexible plastic. This makes them very convenient to use: they're easy to apply and remove on the vial.
Safety 
Vial Safe is intended to reduce the chance of damage to a glass vial that is properly inserted into it.  Use of Vial Safe does not guarantee that damage or destruction of a vial and resulting loss of its contents will not occur. Even when properly inserted, Vials in Vial Safe can be damaged and, in some cases, destroyed and the contents lost. By using Vial Safe you agree that you will hold harmless Vial Safe, LLC from and against any and all damages, including personal injury and death, resulting from the failure of Vial Safe to prevent damage to or destruction of a vial or its contents.
View full details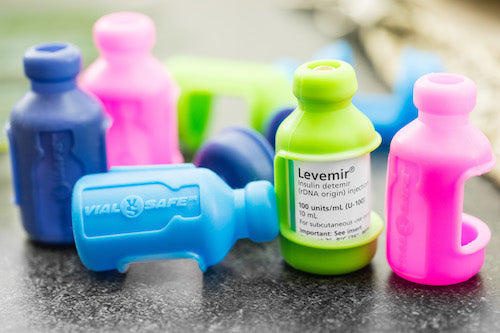 Mirjam
Ze zijn heel mooi. En past goed ben er blij mee.